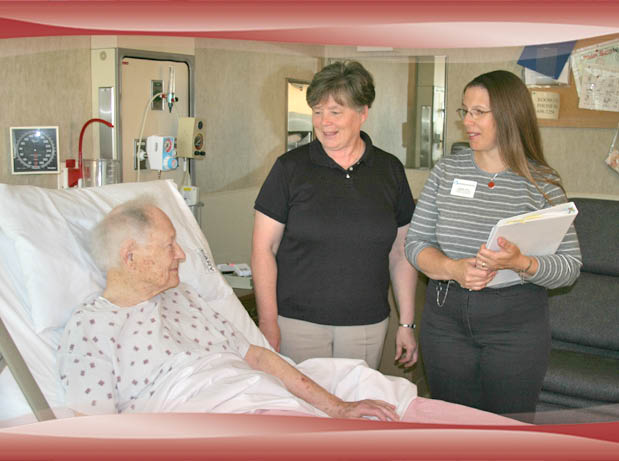 Nursing Occupations
CNA
CNA's must be a Certified Nursing Assistant and be on the Maine CNA Registry within 120 days of being employed. The CNA will perform personal care functions such as bathing, grooming, dressing, feeding and toileting. CNAs work a variety of shifts in order to provide 24 hour/7 day service. Caribou Rehab and Nursing Center will finance the cost of your CNA training with a forgivable loan. See our CNA Training page for details.
Caribou Rehab and Nursing Center is a clinical training site for Caribou Adult Ed and Caribou Regional Technology Center's CNA (Certified Nursing Assistant) programs and for Northern Maine Community College and University of Maine - Fort Kent RN (Registered Nurse) programs.
Med Tech
Med Techs must be a current, active Certified Nursing Assistant for at least one year and must have taken the Med Tech course. The primary responsibility of a Med Tech is to administer all medications except injections and perform treatments that are within their scope of practice. Med Techs work morning and afternoon-evening shifts.
Charge Nurse
A Charge Nurse must have a Maine State License as an RN or as an LPN. They must have a positive attitude towards the elderly and good organizational skills. Duties include supervising the day-to-day nursing activities, CNAs, Med Techs for your assigned station, admission of new residents, and communicating with physicians. Must be CPR certified. Charge Nurses work 12 hour shifts (7 a.m.-7 p.m.) or (7 p.m.-7 a.m.). Shorter 4 or 8 hour shifts are also available on a limited basis.
Supervisor
A Supervisor must be an RN that is licensed in the State of Maine and have 2 to 4 years of experience, preferably in long term care. Supervisors give direction to Charge Nurses, CNAs and Med Techs. They are responsible for overseeing day-to-day needs of all residents. Job duties include: drawing of blood as ordered by physicians, communicating with physicians, families, and residents; developing care plans, directing the care plan meetings, and attending quality assurance meetings.
Candidates interested in the above positions may submit an inquiry via this form or come into the facility to complete an application.